Improve Memory
Some people are under the misconception that memory is unimportant and therefore pay little attention to it. In fact, memory plays a vital role in children and adolescents' learning, as it is essential for all learning activities. We rely on memory to create and reproduce knowledge. The ability to use learned knowledge and experience such as crystallized intelligence involves our executive functions such as working memory.
The archetypal example of Clive Wearing, a British musicologist with no working memory, reinforces the importance of memory. He was not able to learn new things because his memory lasted no more than a minute.
Expert in Working Memory
We have the expertise and are strong in memory training since a decade ago. However, we do not train students for memory competition. Our focus is to engage mental imagery to improve memory for IQ progression, studies and examinations.
Since 2002, we have been helping students to boost up their working memory. Concurrently, improving their fluid intelligence with training on working memory through our original method, the multiple coding theoryTM. Many of our students are able to recall few hundred words of academic information within 30 minutes. Those who possess this superior skill tend to do well in their academic results.
Based on our founder's cognitive and brain training background, he discovered that working memory training is able to enhance our fluid intelligence (IQ). Meanwhile, employing mental imagery not only promotes learning and memory, it also stimulates the development of our cognition and IQ. Based on the data we obtained, the results suggested that we have succeeded in improving students' IQ significantly within 12 months.
Media Coverage on Working Memory & IQ
In 2002, Ric was invited by Singapore's Mediacorp Channel 8 to demonstrate his work on Learning and Memory together with two of his Primary School students. In 2003, he was interviewed by Singapore's Channel U on the same topic. While in 2014, Singapore's Mediacorp Channel 8 invited him to demonstrate his work on Imagery Drawing Test and IQ. Below are some examples of RIC students' memory progression after attending Ric Cognitive Approach® cognitive and brain training.
Jeanne Chong, Primary 1
Date: 4 Sept 2016
Time Taken: 2 minutes 1 second
Score: 52/55 (94.5%)
Pictorial Composition for Primary 1
Roxanne Chong, Primary 2
Date: 28 Aug 2016
Time Taken: 11 mins 20 seconds
Score: 92/92 (100%)
Cognitive Training for English Model Composition Volume 1: My Ambition
Published with permission from Singapore Asia Publishers Pte Ltd
Roxanne Chong, Primary 2
Date: 28 Aug 2016
Time Taken: 11 mins
Score: 138/148 (93%)
Cognitive Training for English Model Composition Volume 1: Taking A Bus
Published with permission from Singapore Asia Publishers Pte Ltd
Ziv Lim, Secondary 1
Date: 4 Sept 2016
Time Taken: 17 mins
Score: 297/303 (98%)
Cognitive Training for English Model Composition Volume 2: An Accident At Home
Published with permission from Singapore Asia Publishers Pte Ltd
Javier Liew, Secondary 3
Date: 7 Aug 2016
Time Taken: 35 mins
Score: 375/377 (99.5%)
Cognitive Training for English Model Composition Volume 2: "Failure is a stepping stone to success." Write about an occasion when you learnt this lesson.
Published with permission from Singapore Asia Publishers Pte Ltd
Javier Liew, Secondary 3
Date: 14 Aug 2016
Time Taken: 39 mins
Score: 291/292 (99.6%)
Cognitive Training for English Model Composition Volume 2: A Nightmare
Published with permission from Singapore Asia Publishers Pte Ltd
Javier Liew, Secondary 3
Date: 28 Aug 2016
Time Taken: 7 mins
Score: 206/206 (100%)
Cognitive Training for English Model Composition Volume 2: A Relay Race
Published with permission from Singapore Asia Publishers Pte Ltd
Javier Liew, Secondary 3
Date: 28 Aug 2016
Time Taken: 30 mins
Score: 309/309 (100%)
Cognitive Training for English Model Composition Volume 2: Reading
Published with permission from Singapore Asia Publishers Pte Ltd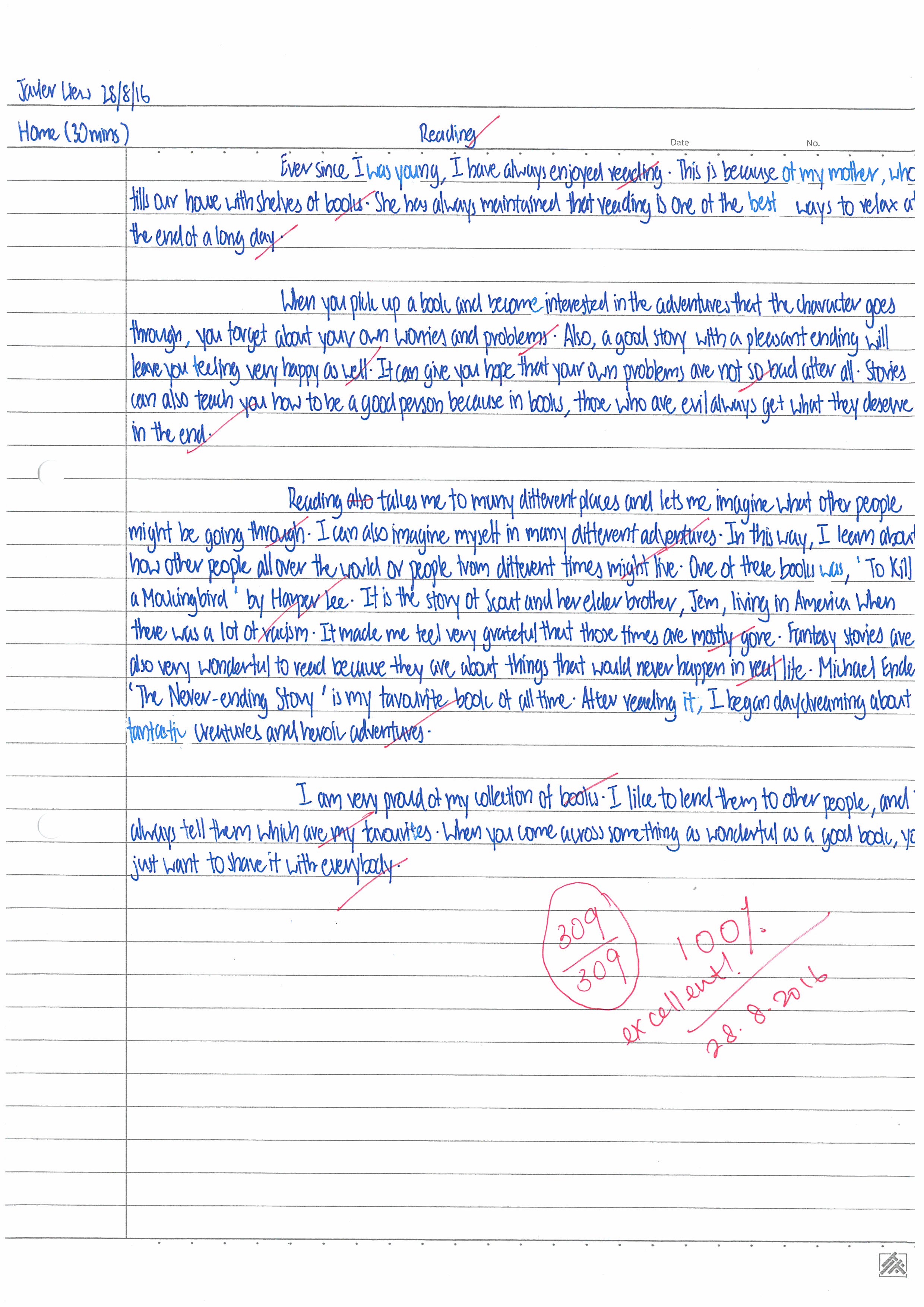 Javier Liew, Secondary 3
Date: 4 Sept 2016
Time Taken: 36 mins
Score: 347/349 (99%)
Cognitive Training for English Model Composition Volume 2: What are some problems caused by delinquents?
Published with permission from Singapore Asia Publishers Pte Ltd
Chia Pei En, Secondary 3
Date: 14 Aug 2016
Time Taken: 30 mins
Score: 275/292 (94%)
Cognitive Training for English Model Composition Volume 2: A Nightmare
Published with permission from Singapore Asia Publishers Pte Ltd
Koh Xin Yi, JC 1
Date: 4 Sept 2016
Time Taken: 41 mins
Score: 645/651 (99%)
'A' Levels General Paper